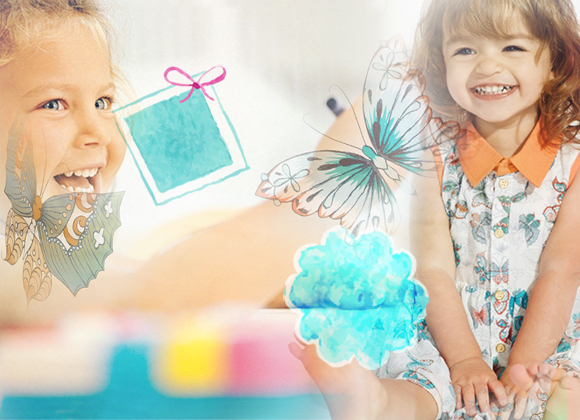 A picture smart person is a learner who is great with imaginations, colors and abstract concept. This is our second type of multiple intelligence learner. Unfortunately, such 'spatial learners' are categorized in schools as either 'slow learners' or 'dyslexic.' This article will dispel the myth and explore ways to integrate the picture smart, insha Allah.
PICTURE smart

Picture in your mind a child who likes to draw and doodle, is good at jigsaw puzzles and following maps, and can build amazing things with blocks. This is a 'picture smart learner' or in the multiple intelligence jargon, 'a spatial learner'. How many times have you met a person only to forget the person's name? You were unable to make a connection with the person's name and his physical appearance. You might recognize the face but you forgot to associate a name with the face!
Let's get our 'spatial' cell active.
Who is a 'spatial learner'?
THINKS in images and pictures

LOVES designing, drawing, visualizing, doodling

NEEDS art, LEGOs, video, movies, slides, imagination games, mazes, puzzles, illustrated books, trips to art museums.
Activity for Picture Smart
Take a look around in your room. Observe the entire room for 2 minutes. Now, close your eyes and think about every arrangement that you have observed. Narrow down to a specific object, a chair for example. What do you now notice about the chair. The color of the chair, the shape, the texture and the arrangement of the chair with another object, the wall clock, for example. This small activity is a great way to active the visual learner in you.
The Spatial learner
The Spatial learner combines the world of imagination with the actual world. They are the thinkers, reformers, designers, architects and artists.

A Harvard professor named Rudolf Arnhein suggested that all of the thinking was visual. He said that even an abstract word like "beauty" could be expressed visually. What kind of image do you get when you think of the word 'beauty?' A flower. Your children. A garden. Lots of colors. May be you in the mirror! (highly unlikely for men!)
Picture Smart in School
School going picture smart learners may have a difficult time because they tend to focus a lot of time on images while the school's focus is on numbers and words. They may have trouble remembering facts or formulas. Experts have found that these kids are sometimes erroneously referred to as 'slow learners' or worse, 'dyslexic.'
Overcoming School Challenge
If you find your child or student to be a picture smart person, focus on their strengths. For example, instead of remembering the names of the Companions of the Messenger of Allah (may Allah be pleased with them), study a map of Uhud instead. Position these companions on the map. Hamza 

would be stations on the battle field. AbuBakr

and Umar

close to the Prophet

. Some companions on the mountain. This way they create a visual map in their brain and it helps them retain information much more easily.
Classroom Techniques
1. Ask the teachers to present the information visually. Slides, Power-point presentations, diagrams, charts and posters are all very helpful.
2. Learn history, geography and other social studies subjects as collages. Cut pictures from newspapers or use Google images to depict the lessons.

3. Design and build models of present information you have learned as a part of projects or reports.
GOOGLE Maps
One of my colleague is excellent with DIRECTIONS. This makes me wonder how he perceives the roads that makes him adept at remembering them. He must be a really good reader who could grasp the concepts. However, this isn't' true.

Instead, the answer lies in the 'spatial' abilities. He thinks in 3D. He perceives roads from the top view (those who have done 'engineering drawing' – would relate better). I, instead, look at the roads much in 2D design. We both, thus, look at the same GOOGLE MAPS – in two different perspectives.
Thus a 'picture smart' learner has the ability to understand 'SPACE'. Space, not as in the Solar System but 'space' that surrounds you and the objects within it. Let me ask you a question.
What is the Shape of KABAH?
If you answered, square, you are a 2D person. But if you suggested CUBE, this is 3D. The actual answer however should be CUBIOD (the Kabah'sorginal shape- well that is for some other history lesson!). Imagining a 3D object, has depth and layers. It is like holding an actual bottle in hand instead of seeing a picture of a bottle.
Creating 3D learners
Here is an activity to think in three dimensions. Close your eyes and imagine an ice cube. Now, turn that ice cube around in your mind so that you can see it from different angles. May be you can see it melting and getting smaller!
Make this test more complicated by imagining three golf balls in a row, colored green, red and blue from left to right. Now, take the red ball and put it in between the other two balls. Congratulations, you have just taught your mind to think in 3D.
Soon, you can create far more complicated 3-D pictures than ice cubes and golf balls. You can experiment with your favorite car, the masjid Nabawi or a washing machine and how it spins.
Masjid al Aqsa
One of the greatest miracle of the Prophet

was his night journey to the Masjid al Aqsa in Jerusalem and beyond to the heavens. When the Prophet 

spoke about this event, the dis-believers wanted to disprove of the journey by testing the Prophet 

on the interiors of Masjid al Aqsa.
Allah 

presented the entire Masjid in front of the Prophet

, who was then able to point out every single detail of the masjid from the pillars to the walls. This is truly a credible and amazing example of a 3-D version of what we have learnt.
Summary:
The Spatial learner combines the world of imagination with the actual world.
Ask the teachers to present the information visually.
Spatial learners have the ability in three dimensions.
In the next article, we will explore next multiple intelligence profile, the BODY Smart. These are those learners who are great with sports, love using their hands and feet, are easily distracted if given a monotonous task as observing, writing or painting. The article will explore ways to engage this learner and find means to strengthen their abilities.
Please share your views about this article in the comments section below. 🙂

Comments
comments