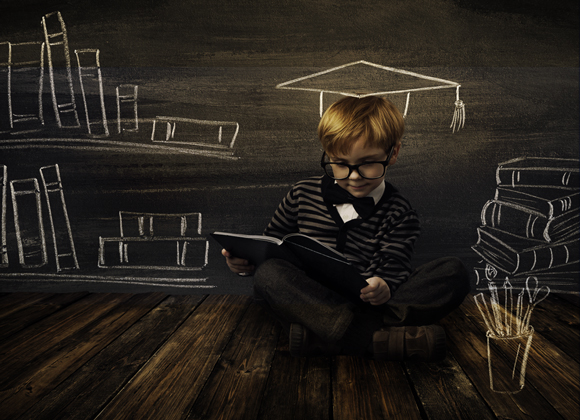 In this article, we will explore the impact of multiple intelligence in our daily lives. Smartness need not always be  defined by the ability to know everything. By knowing about their types of multiple intelligences, every child in every classroom would have a chance to prove their 'smartness.' You will also be looking at a type of multiple intelligences from words, numbers, rhythm, sports, nature and people in this article.
Practically everywhere you look, you can see signs of multiple intelligences at work. In our last article, we established the fact that it is not enough in today's time to be merely depended on IQ. In this article, we will be exploring ways and means on how to define smartness.
Each one of us is gifted in some way or the other and it is up to us to make the most of that 'intelligence.' A metaphor for this would be the choice of an ice cream. You may love the plain old vanilla but your cousin may like fruit and nuts or yet another distant relative of yours only eats chocolate and chips. All of us however, have ice cream as a common ingredient.

The same applies to multiple intelligences. Your choice of books to read, destinations you travel to, the sports you play, the YouTube downloads, the Qaris whose tunes you hymn, the people you prefer talking to or the food you like to eat determines the genre of intelligence you belong to.
Throughout this series of articles, we will be exploring each of the eight intelligences. To make things easier, I have created a simple dictionary of the eight multiple intelligences.

WORD SMART: Technically, this type of intelligence is termed as LINGUISTIC intelligence. Someone who loves languages is a word smart person. Here, the person likes speaking to people, reading, writing and/or enjoys playing word games. Scrabble could be his/her favorite game. Or perhaps, they love spending hours on letters. These people are the first ones to enroll in a spell bee competition. They also love story telling sessions.
MUSIC SMART:  This type of intelligence is termed as RHYTHMIC intelligence. If you appreciate the rhythm, the melody and pattern in sounds, you fall in this category. You are able to differentiate between different tunes. You can make a difference between the croaking of the frog to the chirping of the cricket. You can mimic Mishary Rashid al Afasy with as much ease as you can mimic your mother's wake up calls. Rhythm is in your blood!
NUMBER SMART: This type of intelligence is termed as LOGICAL intelligence. Numbers do not scare you! You like doing maths as a hobby. Sudoku is more beloved to you then Candy Crush. You like riddles, brain teasers, computer coding or doing science experiments. Welcome to the Math club.
PICTURE SMART : This type of intelligence is termed as SPATIAL intelligence. You love to look at the world and all the colors in it. Your favorite toy is a palette with the paint brush. You know what colors are formed when you mix 'blue with green' and 'white with red.' You are able to use your imagination and explain your vision. Art, design, photography, architecture and invention excite you. You are a picture perfect person.
BODY SMART: This type of intelligence is termed as KINESTHETIC intelligence. You shout when you score a goal in your dream. You compete with Rafa Nadal and play football with Lionel Messi in your mind.  You have great water borne body which is ready to jump in the swimming pool. Tennis court excites you. You love cycling. In-fact, you love using your hands for expression. You enjoy doing activities that involve building or repairing. You are a body smart person.

PEOPLE SMART: This type of intelligence is termed as INTER-PERSONAL intelligence. You are interested in other people and how people interact with each other. You can always start a conversation with anybody. In-fact, you can start talking about the weather and end up with a discussion on global warming. You have lots of friends. Your social circle is very large. You might like to apply for the position of a counselor in your own age group.
SELF SMART: This type of intelligence is termed as INTRA-PERSONAL intelligence. You prefer to be alone. You might be a moody person. You understand yourself better than others. You have a journal where you write your ideas, your dream, your future plan or your daily musings. Maybe,  all of this is in your personal blog, which keeps track of all your thoughts. Perhaps, you spend more time alone than with most of your friends. Ramadan is the time you look forward to, to engage in personal dhikr, QiyamulLayl and ithikaf in the last ten days.
NATURE SMART: This type of intelligence is termed as NATURALIST intelligence. You can differentiate between all four types of bears from Grizzly to Polar, Panda to the Sun bear. You love horses and horse riding. That is why Surah Aadiyat is your favorite surah of the noble Qur'an. Your idea of a vacation is visiting a farm or going on a jungle safari. You love being outdoors. Gardening, taking care of pets, cooking or getting involved in the local tree plantation drive is your idea of fun. You are a nature smart lad.
Summary:
Smartness comes in different forms and types.

Multiple intelligence range from word smart, picture smart, number smart or rhythm smart.

Depending on your interaction with people, you can either be people smart, self smart to nature smart.

Each intelligence comes with special likes and preferences.



We will learn about each of the eight multiple intelligences in detail in our next article. We will begin with WORD smart learners and with two goals from it. If your student is WORD smart, we will find ways to enhance the skills. If your student is struggling with the skill set that defines a linguist learner, we will explore options to excite and involve him/her.
Comments
comments