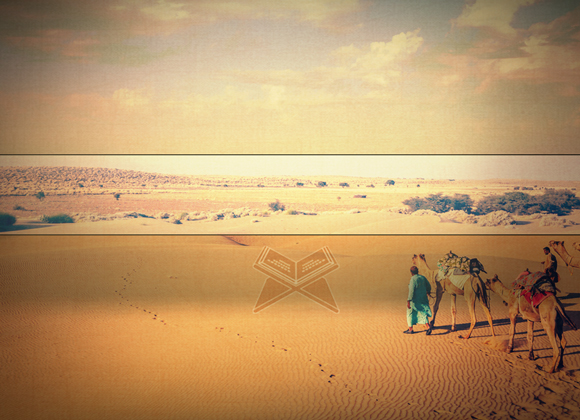 It's unbelievable how much you have to go through as a 21st century Muslim youth.
From the pings to the blings; social media to traditional media; family pressure to pop culture, things can get really overwhelming and suffocating. Sometimes, it feels like nobody really understands your tears, fears and frustrations, from your parents to teachers; siblings to relatives; colleagues and even friends, when all you are trying to do is be happy, gain inner peace and find your path in life.
Hold on. There's no need to scream, stress or lose focus.
Struggles are a part of life.
"Do the people think that they will be left to say, "We believe" and they will not be tried? But We have certainly tried those before them, and Allah will surely make evident those who are truthful, and He will surely make evident the liars." (Surah Al-'Ankabut, 29: 2-3)
Self help is the first aid you need to get through that haze of confusion and overwhelm that life presents from time to time. With the right tools, you can stop to reboot internally, then shift and rehearse with your actions externally.
You need to stop those things that are tampering with your mind, body and soul, and then reboot. Next, make a shift and start those things that will uplift and change you positively. You should keep rehearsing with those positive things – turning them into habits.
Start helping yourself today while remembering that all help comes from Allah

 alone.
Start helping yourself today while remembering that all help comes from Allah

 alone.
Regarding Your Belief
STOP…
1. Starving your soul.
Start:
– Knowing Allah

 through His names and attributes.
– Connecting with Him through constant remembrance.
– Being conscious of Him at all times.
– Worshiping Him as though you see Him.
2. Worrying about the future and unknown.
Start:
– Praying salatul Istikhara when faced with choices and decisions.
– Putting your trust in Allah

alone.
– Accepting that you have no control over the future and unknown matters like death.
– Focusing on the present and counting your blessings.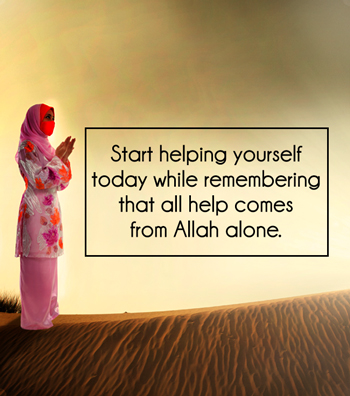 3. Having doubts about the truth of Islam.
Start:
– Praying for absolute guidance from Allah

, your creator and creator of the heavens and earth.
– Investing your time in seeking beneficial knowledge.
– Taking time out for self reflection.
– Reading the Qur'an while pondering its message.
4. Worshiping your whims and desires.
Start:
– Redefining your life goals in line with the higher purpose of your creation.
– Pondering on the final end, death and eternal life that comes after it.
– Thinking about the reward for self control and submission to Allah

.
– Thinking about the consequence of submitting to your lowly desires and shaytan.
5. Corrupting your heart.
Start:
– Safeguarding your eyes, ears, tongue and other organs from sinning and disobedience.
– Harbouring positive feelings and thoughts of Allah

.
– Making dhikr and supplications for a sound heart upon tawheed and fitrah.
– Using the Quran and Sunnah as your reference manuals.
Regarding Your Actions
STOP…
6. Complaining.
Start:
– Saying alhamdulillah and being truly thankful in your heart, speech and actions.
– Counting your blessings daily.
– Looking at those below you in possessions.
– Striving for taqwa, excellence and improvement.
7. Using negative words.
Start:
– Using positive words.
– Keeping company of positive people.
– Reading stories of the life of Prophet Muhammad

– he is your model for perfect character.
– Thinking that a perceived negative outcome may actually be a blessing in disguise.
8. Associating with sinners and the disobedient.
Start:
– Productive hobbies like writing, knitting, gardening, swimming, archery and horse-riding.
– Attending circles of knowledge.
– Contributing to positive projects and causes or starting your own.
– Keeping only righteous company; those that consistently remind you of your purpose on planet earth.
9. Copying the disbelievers
Start:
– Learning about the sunnah and follow in the footsteps of Rasul

.
– Taking pride in your Islamic identity.
– Reading about Islamic history and learn about the true Islamic culture.
– Developing your own unique sense of self worth as a Muslim and believer.
10. Gossiping and backbiting
Start:
– Investing in silent moments if you have nothing important to say.
– Productive habits like reading and journaling.
– Calling to the truth with your words – engage in dawah.
– Keeping your tongue moist with the remembrance of Allah

.
There you go.
Self help tips to keep your mind, body and soul in sync with your fitrah.
Self help is about guiding yourself to acknowledge those positive changes you need and building the courage to live it. This type of help will redirect you to the natural state of fitrah as Allah

created His servants in – pure and surrendering to Him alone.
Do not simply try to stop something – whether a bad habit or a cultural practice; instead pick up a new habit and embrace it with daily practice, prayers, commitment and discipline.
Your youth will come with its own share of struggles, confusion, temptations and negative experiences. And so will it carry positive experiences and life changing opportunities.
Opportunities to help yourself develop, make positive changes and excel. Do not let it pass you by – grab these opportunities, utilize them and let them make all the difference in your life. You can change your life with these actionable self help tips.
A change geared towards momentum and motivation, forming productive habits and achieving great goals.
Stop one thing TODAY to change your life FOREVER.

'"…Indeed, Allah will not change the condition of a people until they change what is in themselves…" (Ar-Ra'd 13: 11)
Please let us know your comments and suggestions in the comments section below. 🙂
Comments
comments