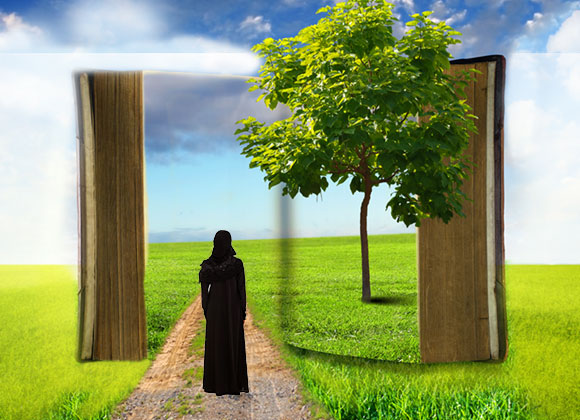 Being a potential practicing Muslim, I often have to deal with the dilemma of acquiring Islamic knowledge and general worldly knowledge, and it is no rocket science that a believer in Tawheed is very likely to have a natural interest over the former and not the latter.
This is of course for a number of reasons, one of the most evident being the umpteen rewards associated with (Islamic) knowledge as noted in the the Noble Qur'an and the Sunnah. Also, from a personal perspective, Islamic knowledge begets inner tranquility which I will NEVER find in calculating profits or analyzing ratios (I am a commerce student). Hence, there is always this joy and motivation for Islamic knowledge while these factors are absent in my general studies. Comparing the two forms of knowledge is an error to begin with anyway. Furthermore, our general studies aren't going to attain us anything on the Day of Judgment (but perhaps they will….read on!).

However, recently I came across a short clip of one my favorite scholars, and he presented an intriguing insight to this mental ordeal of mine. Summary of what I learned from that clip:
Everyone can do something:
Every Muslim is not shaped to go to Al-Azhar or Madinah University to pursue an Islamic career and learn the Islamic Sciences. We can benefit the Ummah by employing our own specializations and by being successful in that particular field. We have to identify our strengths and weaknesses.
During the time of Prophet Muhammad

, all companions did not specialize in *everything*. As examples entail clarity, let's cite a parable: Khalid bin Waleed

 was an expert in military tactics while Abu Hurairah

specialized in Hadith narration. The Ummah benefited from BOTH of these people with their different areas of expertise, and this is an echoing reminder that the Ummah even today needs a healthy mix of people coming from different fields of expertise.
Moreover, it not all or nothing. Some people may mouth, "Oh! I am not qualified to give khutbahs." Okay, that may be true, but can you not arrange for a khutbah in your locality? Can you not organize the stage and multimedia facilities for an Islamic lecture? There's so much you CAN do.
Therefore, my brothers and sisters in Islam who are going through debates with their own soul just like me, do not feel disgruntled that you perhaps may not go on to become a scholar, but do realize that there's a LOT that can be done from the Ummah and YOU can do it from the field you're currently treading on, In Shaa Allah! If you become a medical doctor, you can benefit the ill Muslims and non-Muslims at large. If you graduate from engineering, you can offer free Masjid structures/designs for new Masjids. If you excel in business studies, you can offer employment to the unemployed. The opportunities are more than we think! Undoubtedly, without a shadow of any doubt, embarking on such actions with correct intentions would benefit us in this world and in the Next, In Shaa Allah.
Wordy Studies *Do* Matter:
Furthermore, I'd like to associate an addendum. I have often come across the rhetoric that general sciences (chemistry, maths, etc.) will absolutely bring no benefit to us on the Day of Judgment, and that we won't gain thawab for attaining such knowledge (because these general studies are under the category of worldly affairs (mu'amalat)). This is true, yes, but there's an "if" condition. Brothers and sisters in Islam, realize that general worldly affairs (mu'amalat) in and of themselves do not entail any reward or sin, however, your intention can change this paradigm. From this very moment, if you make a sincere intention that you're pursuing such general studies eventually for the pleasure of Allah

through, for example, benefiting the Ummah, then every single second you spend on pursuing this worldly knowledge would be regarded as WORSHIP. You shall be rewarded from Allah

even when you do those worldly affairs because eventually you're doing them for the sake of Allah

! Henceforth, my brothers and sisters in Faith, steer your intentions right here, right now! Do not let go of this platinum opportunity!
No contradiction between worldly and Islamic knowledge:
Lastly, my brothers and sisters, do realize that there's no contradiction with achieving Islamic knowledge and opting for worldly knowledge. As believers, we wholeheartedly believe that Islamic knowledge undoubtedly takes precedence over worldly knowledge. However, there arises a problem when warmongers try to trap us in a clash of understanding. Attaining Islamic knowledge does not mean I live inside a Masjid 24/7. Attaining Islamic knowledge does not mean I forget about the world. No! If that was the case, our Prophet Muhammad

 wouldn't have been a merchant at one point of his life. He wouldn't go on to be a head of a state, the president of the first Islamic state, to be more specific. Coining a conflict between the two sorts of knowledge is something we must not do. Furthermore, this article should be seen in the light of a Muslim who has already learned the basics of Islam, namely Tawheed, and then basics of Fiqh. It is of significant importance that a Muslim takes their time to learn the fundamentals of Islam.
Be the best in your field:
In these last lines, I remind myself first and you too, dear reader, to focus on your present studies and exceedingly excel in that realm. Be the best in that field! But, if that focus is earned at the cost of not even knowing the fundamentals of Tawheed, if that so-called education is brought in the expense of not caring to know 'Aqeedah, Fiqh, and so on, then realize that you have nothing whatsoever to do with Islamic scholarship. Most importantly, such intentional oblivion may cost you hugely on the Day of Judgment. Eventually, all forms of knowledge are from Allah, the Most High.
Let us make a firm conviction that we will, In Shaa Allah, give our best shot for the pleasure of Allah

, from our respective fields, and that all of us, without exception, would ensure knowledge of the basic tenets of Faith!
And Allah knows best.  
Please share your views and thoughts in the comments section below. 🙂
About the Author:
Shafeen Mahmood is an A level candidate (commerce) from Chittagong, Bangladesh who is trying to be a practicing Muslim. One of his Islamic articles has been published in the MuslimVillage website: http://muslimvillage.com/2015/07/01/83232/something-proud-modern-muslim-achievements
Comments
comments